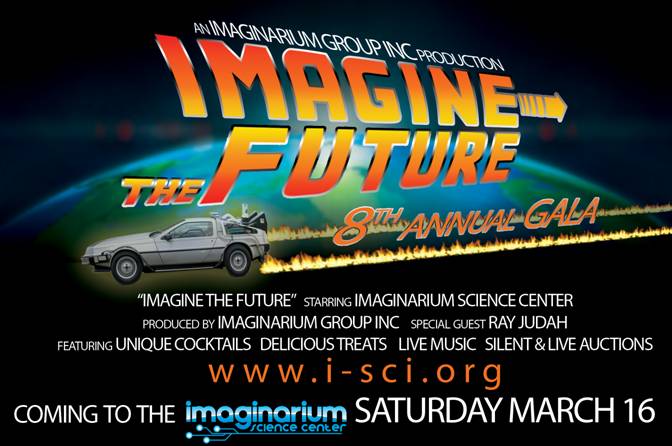 Great Scott! The Imaginarium goes back in time this Saturday, March 16th at 7pm when it hosts the 8th annual Gala, 'Imagine the Future.'
Join the fun, relive the movie, music and nostalgia of the 1980s as guests go back to the future with an evening that's sure to be one of this year's most talked about signature events in Southwest Florida.
Excitement and anticipation is high for this 80s-themed fundraising evening centered on the iconic movie, 'Back to the Future,' which fits the direction of the Imaginarium Science Center, gathering momentum & planning for the Science Center's future.
The Imaginarium will approach 88mph as soon as guests arrive. Spotlights will fly around the landmark blue building as they did in the movie while Doc and Marty try to prepare the
DeLorean to go back to the future. Local theater actors will elevate that interactive experience in their roles as 'Doc' and 'Marty' respectively and bring the event to life through interaction, skits and photo opportunities. Just look out for 1.21 gigawatts!
Also outside, guests will enjoy dancing under the Water Tower in the Lipman Family Courtyard, sipping cocktails, strolling through the grounds and new Backyard Nature path while viewing the two-phase Caloosahatchee Experience complete with live alligators and aquariums, then wind their way indoors where a tricked out Imaginarium offering spectacular lighting and decorations, signature cocktails, food, and music as well as special Silent and Live auctions that will have guests waxing nostalgic and enjoying a return to the 80s before hitting 88!
This unique fundraising gala will have you wishing for more time so fire up the flux capacitor and get ready to have the time of your life at the Imaginarium THIS Saturday, March 16 at 7pm. But remember, lightning never strikes twice so get your tickets before they're gone!
Tickets are $75 per person and can be purchased online at
www.i-sci.or/gala
or by calling 239-321-7409.